The sump pump is the heart of any interior drainage system. Without it, common problems arise. A flooded basement can be a very expensive nightmare. As little as one inch of water can take hours to clean up and cause thousands of dollars in damaged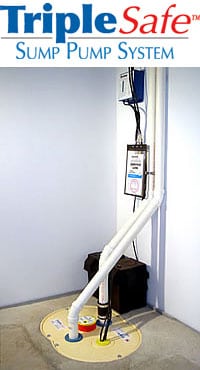 furniture and carpets. A properly functioning sump pump in your basement is your best defense to prevent flooding.
Failing sump pumps are the leading cause of basement flooding and water problems. If you need a Sump Pump System Installed or Replaced call the experts at Mr Fix It Plumbing.
It is important to test your sump pump regularly to make sure it will operate when the next big downpour occurs. Test it by pouring a bucket of water into the sump pit. The pump should turn on, remove the water from the pit and shut itself off in a matter of seconds.
When you work with Mr Fix It Plumbing, you will be amazed by our total commitment to your satisfaction.
Have a Plumbing problem or need the services of a professional Long Beach Plumbing Contractor you can count on? Contact Mr Fix It Plumbing today at (562) 988-2454.