Mr Fix It Plumbing sells and installs new boilers and offers maintenance and repair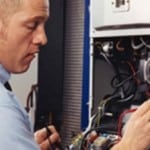 services for steam boilers and hot water boilers, including maintenance contracts. We can service virtually any brand of boiler.
NEW BOILER INSTALLATION
New boiler sales
Low- & high-pressure steam boilers, hot water boilers
Boiler system design for proper sizing and piping
Burner and combustion set up
Piping and ductwork
DA tanks
Long Beach Boiler Repair
Safety inspections
Boiler tube repair/replacement
Welding repairs of cracks or leaks
Repair/replace external piping
Refractory repairs
Boiler feedwater pumps, condensate pumps
BOILER MAINTENANCE
Clean boiler & burner
Burner adjustment using a combustion analyzer
Check for proper operation
Arrange boiler inspection with insurance or State
Have a Plumbing problem or need the services of a professional Long Beach Plumbing Contractor you can count on? Contact Mr Fix It Plumbing today at (562) 988-2454.